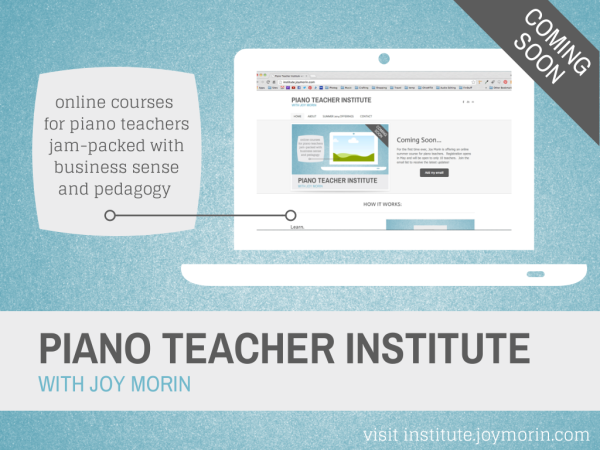 I fervently believe that it is essential that musicians seek out opportunities to improve their skills as performers and teachers. Professional development can come in many forms: attending conferences and seminars, reading recently published books and journals on the topic, as well as participating in web-based events. As 2015 got started and I found myself returning to private piano teaching, I decided to take advantage of the opportunity to enroll in Joy Morin's online Piano Teacher Institute.
PTI is a 6-week course that addressed topics from the business matters related to the piano studio, to selecting student repertoire, and conducting the initial lesson with a new student. In addition to weekly reading assignments transmitted as PDF files, the course also included multiple writing assignments that would generate feedback from Joy and a weekly video chat with other students enrolled in the course.
Before I begin my personal reflection on the Piano Teacher Institute, I need to be very transparent. I opted to participate in the winter session because it appeared that I would have much more time to devote to the class. As soon as PTI began, my schedule changed sharply and did not permit me to be as active as I had hoped. Having said that, I still found Joy's course to be informative and very beneficial.
In my personal opinion, the PDFs that accompany the course are worth the price of enrollment. They present material in an approachable manner that is well-reasoned and carefully researched. I also appreciated the "For Further Reading" lists that are found at the end of each chapter; these lists have contributed to my professional reading list as I continue to explore the area of piano pedagogy. Because the files are PDFs, downloading them was very easy and ensures that I will be able to consult them again in the future. My only complaint about the readings provided was that they did contain several typographical errors -- mainly related to spelling and grammar -- that seemed to slightly diminish their professionalism, although they did not significantly impact the message that Morin was conveying. (I know that PTI is a relatively new offering for Joy and anticipate that the documents will be revised in the near future as she continues to make improvements and adjustments.)
The weekly writing assignments offered opportunities to think about a wide range of topics. Some focused on the theory of pedagogy while others allowed students to reflect on how the concepts discussed were reflected in their own studio and teaching. With at least 6 assignments of varying lengths each week, I found them to be very time consuming and was not able to complete any of them. I would have liked to have had the opportunity to receive feedback from Joy, but the magnitude of the assignments as well as my personal schedule created an overwhelming situation that I couldn't get past. However, in the weeks since completing PTI, I have found myself completing several of the suggested writing tasks and have seen the benefit of the exercises in my personal teaching.
The weekly video chats were amazing! Housed in Google groups, the video conferences were easy to access. Since it is expected that students may have a conflict with the scheduled chats, videos are uploaded for later viewing as well. The conferences are conducted in an open-discussion format. Joy begins the discussion with topics in the week's lessons and the conversation follows participant interests. Occasionally, a conference can be dominated by an out-spoken participant (or by the fact that some of the others are too shy to jump in); Joy was quick to gently bring others into the discussion without putting anyone on the spot. Sometimes I think I would have liked a few more directly posed questions -- "Kennith, what are your thoughts about....." -- especially in the early weeks to help pull some of the more shy students into the discussion and assist with the creation of our online community.
I highly recommend piano teachers consider enrolling in the Piano Teacher Institute. Whether you are a newbie to the teaching profession or an experienced pedagogue, I am confident that you will be energized, challenged, and encouraged by the content as well as by Joy's gentle personality. If possible, participate in a session of the course when you have a little more time to devote to it. I would estimate that in order to really glean all of the information contained here (and to complete the written assignments adequately), a teacher would want to allow at least 10-15 hours weekly to interact with the material.
To learn more about PTI's upcoming schedule and tuition costs, visit
institute.joymorin.com
. While you are there, make sure to check out Joy's piano blog,
Color in My Piano
.